Drag Queen World Series

Official Home Page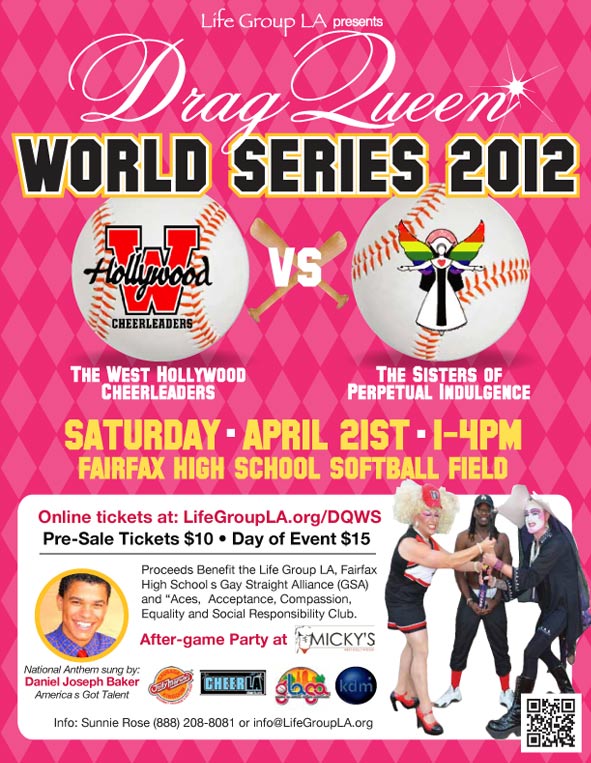 Tickets Are Available at the Gate for $15
If you purchased your tickets online, thank you!
Your name will be placed on the will-call list at the check-in table.
Fairfax High School
7850 Melrose Ave
Los Angeles, CA 90036
DIRECTIONS
Entrance to the Soft Ball Field is on
North Genesee Avenue
(just South of Melrose)
The game will be played at Fairfax High School on the "Softball Field" that is completely contained (fenced) separately from the rest of campus. There is only one entrance to our field and it is right next to the tennis courts at the south east corner of the campus on North Genesee and Rosewood. We will have balloons up at our entrance gate.
Seating at the bleachers hold about 150 people however if you rather sit on the grass or bring lawn chairs and umbrellas that is okay too!
Beverages and sweets will be available by the GSA and ACES Students! Please support them in their effort to raise a few bucks for their clubs.
Jody Maroni Hot Dogs available for the first 200 people!
No Alcohol, Smoking or Pets are allowed on the School Campus please!
Parking entrance is on Clinton and North Genesee Avenue.. (1/2 block from our field entrance gate) and there is also street parking.. be mindful of the street signs… there is also parking in the main parking lot but the walk to our entrance is much greater, you will have to walk around the entire campus.… that main parking lot entrance is on Fairfax and Clinton. (By the little theater)
Day of Event INFO: 661-496-6022